Welcome to Could I Have This Dance
2022 - IT IS ALREADY A BETTER YEAR
Our St Georges day dance last night was a great success. Lovely to see so many of our regular dancers and a few first timers as well. The atmosphere was very 'party mode' and great to see so many people joining in the bus stop quickstep. As one of ourt regular social dancers said " it is nice to see people mixing again. It has brought us back to the pre-pandemic situation".
With spring definately now here we look forward to seeing more peole venturing out. Our next dance is on Saturday 14th May, so put the date in your duiary and we look forward to seeing you there.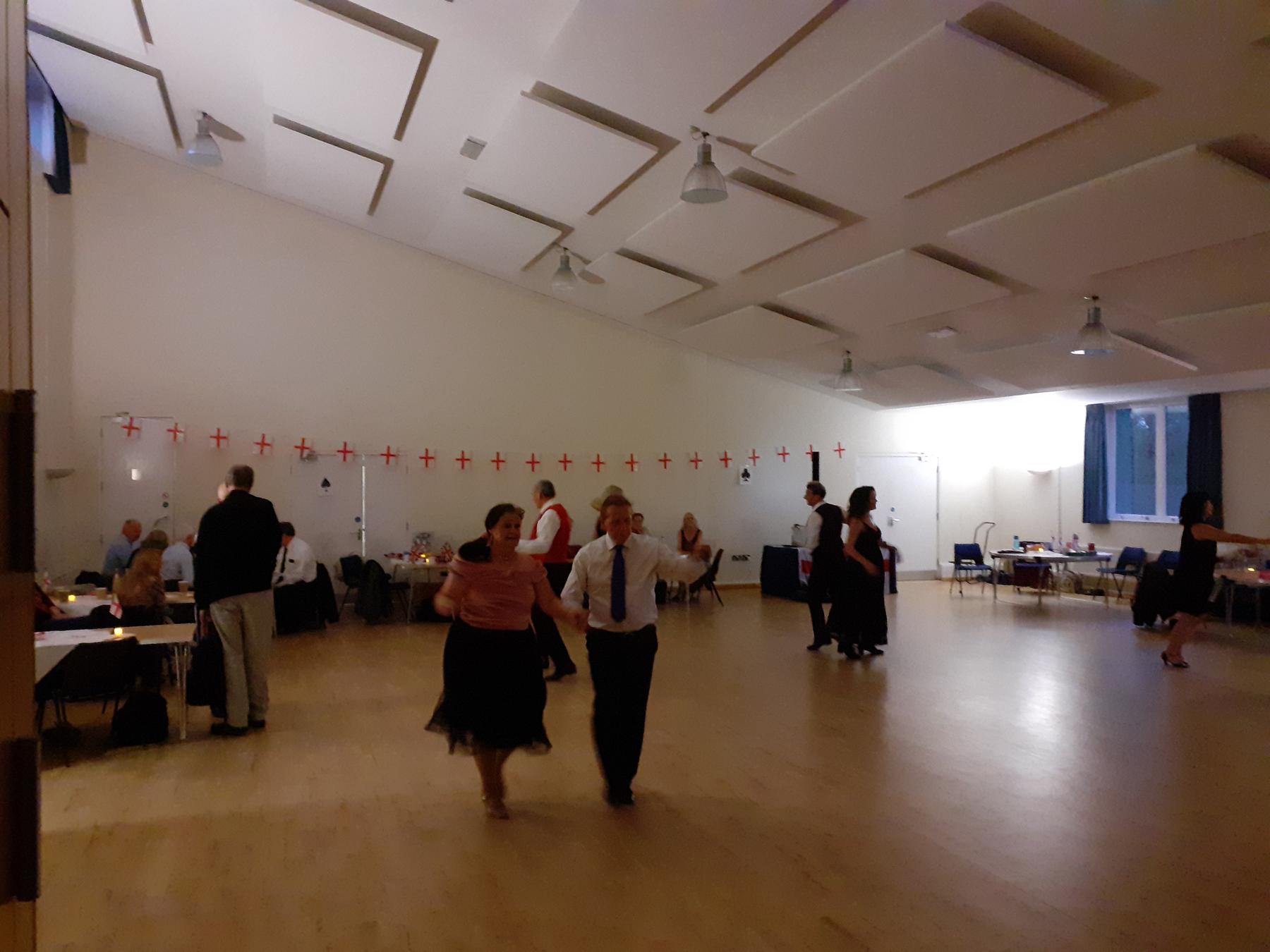 ---
Life is better when you dance!
We are Jill and Colin; professional dance teachers, Ballroom and Latin enthusiasts and creators of Could I Have This Dance.
For us, dancing is all about having fun! That's why we offer IDTA qualified Ballroom and Latin dance teaching in an environment that is relaxed, friendly and welcoming to all. Based in Epsom and Ewell, Surrey, our classes and social dances are a chance to improve your skills, meet new people and (most importantly of all) enjoy yourself!
Whether you are 18 or 80, an absolute beginner or a seasoned pro, we have a class for you. Proven to reduce stress, improve posture, build confidence and even enhance your memory, Ballroom and Latin dancing is the perfect activity to benefit your mind, body and spirit — whatever your age or ability.
New to Could I Have This Dance? Come along and try out a class with us for free — We would love to see you.
"In a few years I have gone from a non-dancer to a man with a right foot as well as a left foot! […] Everyone is encouraging and it doesn't matter if it takes what seems forever to achieve new steps — patience is endless — a real place of support and delight."

Tim,West Ewell
---
What do we offer?
Professional Lessons for All Levels (18 years +)
The lessons below will commence on Wednesday 1 September 2021.
Open to individuals and couples, our classes cover all the classic Ballroom and Latin dances, from the energetic quickstep to the elegant waltz. Our classes are open to all ages and abilities, so why not give it a try.
New Mixed ability Class — 19.30-20.45 on Wednesdays @ Epsom Methodist Church, Ashley Road Epsom, £7.00pp.
This class is for peole who have never danced before or those returning from a 'break' in their dancing life.
Intermediate Class — 20.30-21.45 on Wednesdays @ Epsom Methodist Church, Ashley Road Epsom, £7.00pp
Our intermediate classes are designed for proficient dancers ready to take on more complex steps. If you think it is time to take your training up to this level, please get in touch.
For both classes we will rotate in the teaching session with those who wish to. In the practice session it will be up to the individual to decide themselves if they wish to dance with others who are willing. Going forward we aim to return to full class rotation. Wearing of masks throughout all/part/none of the session is fine. We will be available during the practice session at the end of each class to help anyone with their steps as required. Students will be able to rotate in the practice session.
As you know, Epsom Methodist Church have asked that for the time being, we wear masks as we enter and move about the building, but not the during the sessions. They have also asked that we continue to sanitise main touchpoint surfaces for the time being, which, of course, we will do. This is all in line with Government requirement to continue to be cautious as we move out of restrictions.
Social Dances - at St Joseph's church Epsom
Keen to put those dancing shoes on and get back on the floor? Why not try our Latin and Ballroom social dances?
Held on 20 Saturdays a year, these events are the perfect chance to meet new faces and exercise your dance skills in a social setting. Whether you are an individual, a couple or a group of friends looking for a fun new way to socialise, come along and give it a go!
Saturday evening 8.00 – 10.30pm
Venue: St Joseph's Church, St Margarets Drive, Epsom, KT18 7JQ
Large wooden dance floor; reserve your table; free tea/coffee/biscuits; bring your own drinks & nibbles; free parking.
Cost £7.50p per person bookable and payable in advance by BACS, (contact us to book /for bank details) or £9pp on the door.
Saturdays: 9th & 23rd April, 14th & 28th May, 11th & 25th June, 9th & 23rd July, 13th & 27th August 2022.
Medal Test Training
Medal tests are a great way to focus your training, measure progress and consolidate your dance skills. We regularly train and enter our students for Bronze, Silver and Gold upwards with the IDTA.
Private Lessons
Our private lessons are perfect for bride/groom first dances, new dancers, detailed medal test training or students who are more comfortable in a one-to-one setting. Open to couples or individuals, we aim to make our private lessons relaxed, friendly and fun.
"We got in touch with Jill and Colin to get private lessons for our wedding last year […] We took a lesson a week for about six months and enjoyed going there tremendously. Jill and Colin are passionate, highly talented and watching them dance/demonstrate is quite a treat. They are also very patient and make the lessons very fun. I cannot recommend them enough."

Cecile and Geoff, Hackbridge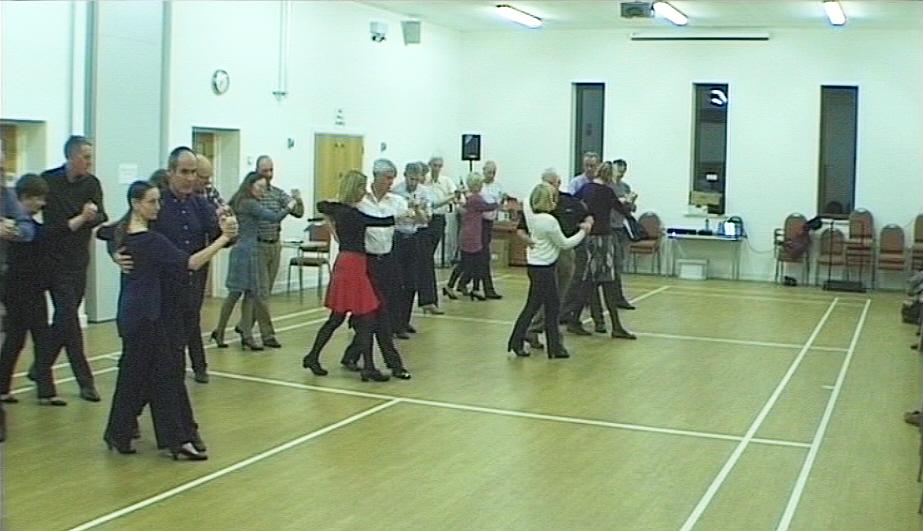 ---
Why Dance With Us?
We believe dancing should be sociable.
At Could I Have This Dance, we do more than just drill our students for medal tests. Unlike many dance schools, we also teach students how to apply their skills at social dances. Our approach has many benefits; our students learn to lead and follow into new steps, adapt quickly to different floor spaces and, most of all, step out of the classroom and start enjoying their talents socially.
We offer IDTA qualified teaching.
Colin is IDTA (International Dance Teachers Association) qualified, with an Associate qualification in Ballroom and Latin American. The IDTA is a globally recognised organisation providing the highest standards of dance teacher training. In short — you're in good hands!
We teach as a couple.
As a male/female teaching team, our classes offer a rare chance for both men and women to learn with a professional teacher of the opposite sex. The result? Our students learn how to lead and follow much more quickly and effectively.
"As a pair, Colin and Jill can demonstrate a figure accurately and more clearly than a single teacher, sequentially in each gender, as in some classes."

Clive, West Ewell
We want you to have fun!
Perfecting your dance technique is important, but what matters most to us is that you have a good time doing so! Our teaching style is patient, friendly and hands-on; we welcome questions, are happy to troubleshoot problems and make sure no one is left behind.
This relaxed atmosphere means our students not only pick up dances more quickly, but learn to love their craft. After all, it's true what they say: "Dance with your heart, and your feet will follow!"
"Learning should be fun and it is with Colin and Jill!"

Phil & Jan